classic skateboarding shoe from the '90s is now your casual everyday sneaker
Known for its skateboarding prowess in the 90's, the OS Sneaker has grown into a legendary casual shoe for street wear. Simple's flagship style, the OS Sneaker has stayed true to the ideals upon which Simple was founded. Clean and minimalistic in its design, the OS also provides long lasting comfort with a Purefit insole.  Outsoles are made of recycled rubber and contain no harmful chemicals.
Premium Suede Leather Uppers
Fabric collar and linings for breathable comfort
Purefit insoles for comfort
Long-lasting stitched down recycled rubber outsoles
"...the Original and Best" - GQ Magazine.
"perfect for those days when you want to keep it low key" - Complex
Orders & Shipping - North America
FREE shipping on all US Orders over $100.  Under $100 is flat rate of $4.95.
FREE shipping on Canadian orders over $120. Under $120 is flat rate of $20.
Orders are processed and shipped within one business day.  We ship using USPS Priority Mail.  Once your order has shipped, you will receive an email containing your shipment tracking number which you can use to track the delivery status.   
Orders & Shipping - International
We ship to most countries for a flat rate of $45.  
If you have any questions about international shipping please contact us and we will be happy to help you.
International orders are subject to your country's import and customs regulations.  This may result in added time and costs.  Any duties or taxes related to international orders are the responsibility of the customer.  In our experience, Customs Duty Tax is levied on about 10% to 15% of our orders and can range from $30 - $50 USD in addition to the shipping charges below.  So you need to really want your Simple Shoes:)
Start your Return or Exchange Here.
Returns & Exchanges - United States
FREE Returns and Exchanges as long as:
You made your purchase within the last 15 days. 
Your products are unworn, resellable and in original packaging. 
Note - Sale / Last Call items are not eligible for Refund, but are eligible for Exchange or Store Credit.
Refunds are processed within 24 hours after receipt by warehouse (excludes original shipping fees). 
Returns & Exchanges - International
Due to the added complexity of shipping internationally, we are not able to provide a free return shipping label.  However, we will gladly exchange or refund once we receive your returned goods that you've shipped using the carrier of your choice. 
Customer Reviews
Write a Review
Ask a Question
02/24/2020
Shannon .
United States
What happened to smaller sizes?
I still have my red simple shoes from the late 90s and I refuse to throw them out... I was so excited to see this ad and then realized that your sizes start in a 7 women's I wear a 5.5 or 6 in women's so I can't purchase a new pair. I'm so sad that I have to miss out on this.
02/10/2020
Scott W.
United States
Love Love
I've been a huge fan of simple since the beginning and was super sad when you guys closed... I had no idea that the company was re-opened so you probably missed out on my business for the last three or four years simply because you're advertising never reached me ...are you advertising ??that you were still alive? I just search for you on a whim because I was feeling nostalgic and missing my old kicks...Until very recently my Facebook profile was just a picture of my feet in my new kicks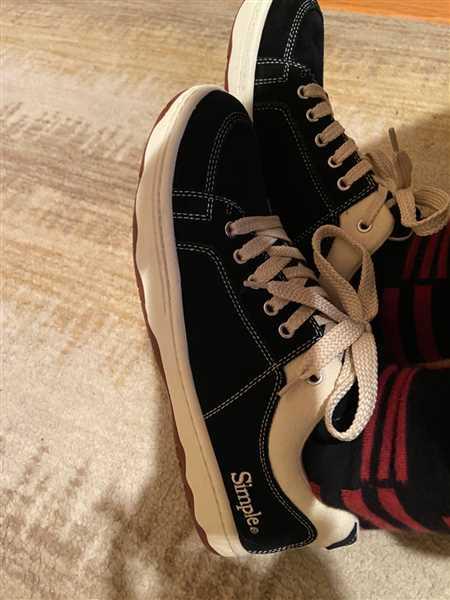 Glad you found us Scott! Great pic. Thanks for sharing!
02/07/2020
Carol V.
United States
Not an all day shoe
I like the look but the arch hits in the wrong place and my feet hurt at the end of the day. Cute shoes but not as comfortable as the old school ones of the 90s.
02/06/2020
Martin G.
United Kingdom
Best Shoes Ever
Ever Since I first went to Santa Monica in the mid-90s and found a pair of simple OS (black) on third Avenue, They have been my favourite shoes. Suitable for almost any activity, I've had some that I've kept fresh for as long as possible, and others that ended up covered in mud and paint. Living in London, It wasn't easy to keep replacing them, but we were lucky enough to have several trips to California until the early 00s, and my wife would roll her eyes at the predictable need to go shoe shopping for me for this particular size and colour. I managed to forget about Simples after they disappeared from shops and it was so great to hear that the company had had a restart. I've already been through about 10 pairs since then and have 2 new pairs ready to go when I need them. They're not cheap either - my current nearest supplier has them for £85 - but I know it's worth. Most of the time, I just don't feel right with my OS sneakers in black.
02/04/2020
Brooke
United States
Please make them in smaller sizes!
I had a pair in college and loved them. Would love to have a pair now but I am a woman's size 6. Please make smaller sizes!