FIT GUIDE
Runs slightly large. If in doubt, order a half size down.

DETAILS

Full grain premium leather uppers

Long-wearing Vulcanized rubber outsoles

Eco-friendly water-based glues

Vintage styling and coloring - like it's been around as long as its namesake

May cause you to run off with a Vampire. Follow your dreams.
So the story goes: during the early days of filming a certain wildly popular romantic vampire movie, a certain actress borrowed her makeup artist's shoes, loved them, wore them in the film, and they became almost as famous as she was. They completely sold out, they were not being made anymore, and it was virtually impossible to find. Used pairs became highly-coveted collector's items. They were known as the Simple Retire back then. Then the style took on a life of its own, spawned its own Facebook group and was followed by countless fans asking us here at Simple to bring the shoe back for a limited run. We did our best to recreate the style – and we hope you get the chance to pick up a pair while they last. 
Orders & Shipping - United States 
FREE shipping on all US Orders over $125. Under $125 is flat rate of $8.00.
Orders are processed and shipped within one business day. We ship using USPS or UPS Ground. Once your order has shipped, you will receive an email containing your shipment tracking number which you can use to track the delivery status.   
Orders & Shipping - International
We currently ship to Canada, the UK, Ireland, Germany, Austria, France, Netherlands, Singapore, Mexico and Brazil . Choose your country from the "bubble flag" on the bottom left hand side of the website and take it from there! 
Start your Return or Exchange Here.
Returns & Exchanges - United States
FREE Returns and Exchanges as long as:
You received your purchase within the last 30 days. 
Your products are unworn, resellable and in original packaging. 
Note - Sale / Last Call items are not eligible for Refund, but are eligible for Exchange or Store Credit.
Refunds are processed within 24 hours after receipt by warehouse (excludes original shipping fees). 
Returns & Exchanges - International
Due to complexities with international shipping, we are unable to provide a prepaid return label. But we will gladly exchange or refund your purchase if all of the above conditions are met.   
Start your Return
Here.
Customer Reviews
Write a Review
Ask a Question
01/27/2021
Mike

United States
Simply slip on's
Looking at pictures I was half expecting a brushed leather, almost suede but received a smooth leather similar to a biker jacket. Not shiney, but not flat black either. Thanks to a thin canvas lining throughout they slid on like a slip on should with an unstructured rear to aid in wearing like clogs if one chooses to. They felt broken in right off the bat. And yes they do run a smidge large so a half size smaller than I normally wear is just right. The ubersquish insole provides just the right amount of support without feeling mushy. The SLO type soul is plenty grippy. The style reminds me of sneakers from a period of sock hops and malt shops. So my friends won't ask why I'm wearing girls sneakers but instead will ask where I get those Eddie Haskell retro-shoes.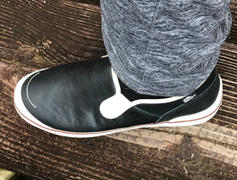 01/26/2021
Pen N.

United States
Do NOT order half size down!!
My shoe size is 7 to 8. 7 heels 7.5 flats/slip ons (Vans, Converse, Toms) 8 tennis shoes (Nike, Keds, boots, etc) My feet are a bit wide but my Keds, Vans etc fit fine in 7.5 to 8 regular width. So when the Simple site instructed to order a half size down if in doubt, I figured it would be a safe bet to order a 7.5. WRONG!!!! The shoes were soooo tight I could barely get them on, and once I did, they were so tight I had an immediate, painful pinching. No amount of "breaking them in" or stretching them out would have worked. Simultaneously there was an extra full inch from my toe to the end of the shoe. So, WAY too small on the width and an inch too long on the length. In the hopes of making the shoes work, I returned the 7.5 and am still waiting for my size 8 exchange, although I am not hopeful based on the extra length of the first pair. If they had fit properly, I might think they are cute shoes.
01/19/2021
Melissa R.

United States
Perfection
As someone who requested the extended sizing (to a 12) I am SO thrilled with how these fit and feel. I got them in and honestly have never been happier with a shoe that I just purchased online without getting to try them on first. They're incredibly comfortable, and considering how many issues I have with comfort in other shoes, this makes them that much better. I may even go ahead and buy another pair...Thanks Simple for allowing this Twilight fan one of the best opportunities in footwear!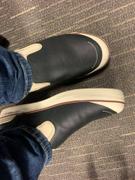 01/15/2021
Angela .

United States
01/15/2021
Bella

United States
Hold on tight, spider monkey, these shoes aren't coming off!
This is my first pair of Simple shoes, and I've fallen in love with them. Super fast shipping, super comfy shoes. I am already planning on buying more Simple shoes. I'm hooked!